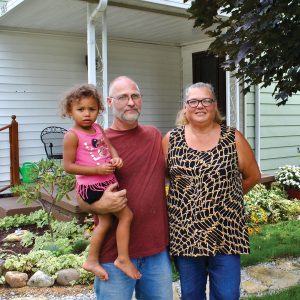 Many people know Donna Young as the flower lady. She and her husband, Randy, have worked on improving their yard on 8th Street for the last thirty years. When they bought the house from Donna's brother in 1988, the first thing Randy did was cut down every tree on the property because he wanted it to be easy to mow. Donna convinced him to let her start a small flower garden by their porch and the project has blossomed from there to fill their yard and the spill over to the vacant properties on either side of it.
Donna and Randy met when they were freshmen at Southside High School. "I instantly knew I loved him. He was trouble though," Donna laughs, "and he's been trouble all these years." If you talk for long, you learn it's Donna who likes to stir things up, starting projects around the house and enlisting Randy's help to finish them. After 37 years of marriage, it seems to be a pattern that works. Now their grandkids enjoy the projects started years ago, playing with the little sculptures and finding treasures in rocks and plants.
Randy and Donna are big-hearted neighbors who have always loved the neighborhood. They've seen a lot of changes from their front porch over the last three decades, but they're more than just observers; they are change-makers. This year, the Youngs worked with neighbors to make a beautiful rock garden along 8th street. Randy is quite a handyman and often helps his neighbors. Donna now serves on the neighborhood association board and helps on all kinds of neighborhood projects, from the community garden to pocket park parties. Donna says, "Life has gotten better for me since I became [involved in] the neighborhood. It does a heart good to help somebody." She is happy to get out and meet neighbors both new and old. Her flowers, generosity, easy laugh, and family make South Central a more beautiful place.