Thomas Park/Avondale is a place where people are beginning to come together to make the neighborhood safer and more beautiful by reclaiming abandoned spaces and rebuilding relationships within the neighborhood after decades of despair. At the beginning of the Twentieth Century, our forefathers came here from the Appalachian region to work at the factories. They settled here with their families, creating a wonderful neighborhood. The community grew and prospered as the factories flourished. Our families earned good salaries, and many children followed their parents into jobs at the factories. Community life was vibrant, people lived in nicely kept homes, and family and social events were abundant. However, as the factories began closing down and the subsequent opioid crisis hit this community, jobs became fewer and the neighborhood fell into decay. Many neighbors felt hopeless due to low-paying jobs and lack of opportunity.
In recent years, community members have come together with diverse neighboring and citywide organizations and funders in the 8twelve Coalition to revitalize our neighborhood.
Today, residents are taking steps to better care for our neighborhood. There is a new pride. Through the resilience that has always been evident in this neighborhood and by forming relationships with one another, individuals and organizations such as Habitat for Humanity, Ross Community Center, and Muncie Mission are invested in making the neighborhood a more desirable place to live.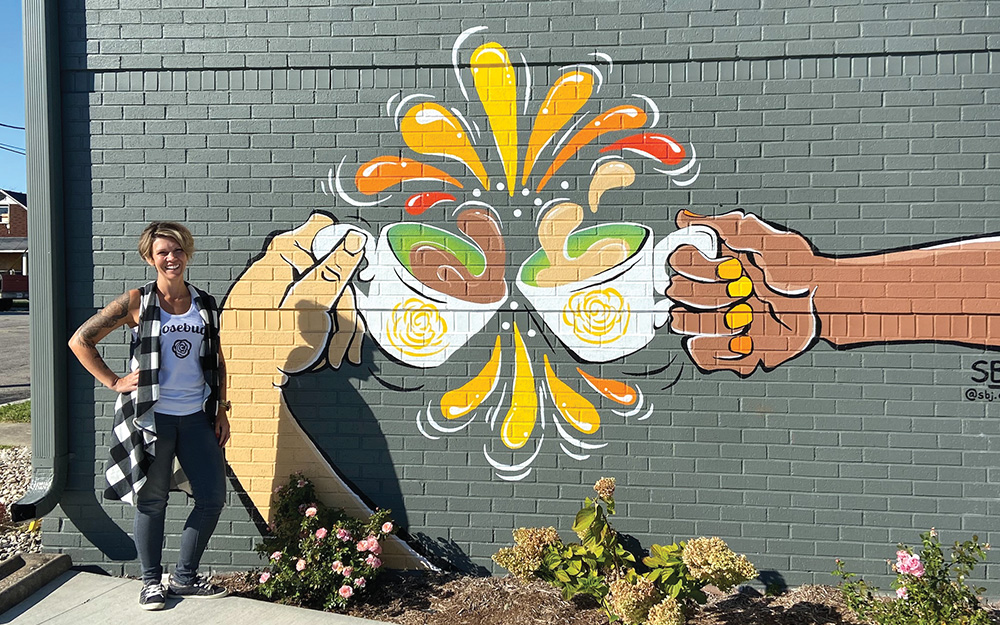 After meeting and discussing with the group from Thomas Park/Avondale – we gained a vast insight into what the community has been and where it's going. It's that idea of past, present and future that really starts to come through with the mark we've created. Within the mark itself the viewer can identify a variety of things that came out of our conversation. First, there's the gear that puts emphasis on the neighborhood's past and the factories that many people remember. The rough edges and distressed look helping to push that thought of something worn – yet tried and true. Growing out of the gear are trees, representing the efforts of the community today and how parks are being created and further efforts like the ball diamond are helping to bring the neighbors closer together. Finally, the ellipsis that separates the two elements is really what combines the past and present to suggest the future of what is to come.
The font chosen is a lowercase serif treatment to help provide a bit of youthful fun to the logo while still remaining traditional in nature. Colors were picked based upon the feedback from the group that might best represent the surrounding area of Thomas Park/Avondale.